---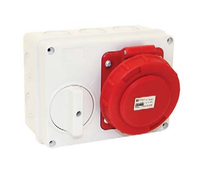 Marlanvil 16A 2P+E Interlocked CEE Ind S/S/O (IP55) Horizontal

Marlanvil 32A 3P+E Interlocked CEE Ind S/S/O (IP55) Horizontal

Marlanvil 32A 3P+N+E Interlocked CEE Ind S/S/O (IP55) Horizontal
Marlanvil produces a wide range of interlockedswitch socket outlets both vertical, horizontal,surface and flush mounting, IP55 protected andcomplying with CEI- EN 60309/1/2 standards.
The particular design features of interlockedoutlets allow the realization of totally safeplants; preventing plug connection anddisconnection while under power. They alsoallow use in especially dangerousenvironments.
For this purpose, Marlanvil designed andmanufactured MICROBLOCK range which,thanks to its extremely reduced size, is suitablefor all work environments, both industrial anddomestic.